Your front door talks to me. No, I'm not going mad or hearing voices. You may not realize it, but the color on the front door tells me something about you and what I can expect to find behind the door.
When I arrive to show a house, the first thing I notice is the front door. There are doors that I love, and doors that I hate. Before I talk about door color, let me say that those cheap, flimsy 70's wood doors are right out. The stained, mottled, splotchy kick plate is also right out. With that said, let me first talk about the front doors that I love.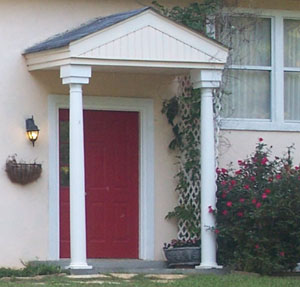 1. The Red door. This is my absolute favorite. When I see a red door, I expect a vibrant and well decorated home. I love, love, love red doors!
2. Classic White door. If it's a nice bright white, then I'm expecting to open the door to a crisp and clean home with neutral colors throughout.
3. The Black door. This is another door color that I really like. When I see a glossy black door, I expect an elegant, traditional interior. (This also applies to dark navy).
4. The Wooden door. This one really depends on the style of the door itself. In general though, I like wood doors as long as they are up-to-date and in good condition.
Now, there are two door colors that I particularly dislike.
1. The Yellow door. Maybe it looks good in the mediterranean, but not in Tennessee. Yuck.
2. The Country Blue door. This one makes me want to poke my eyeballs before entering the house, because the odds are pretty good that the decor is going to be hideously outdated. I have yet to ever see a country blue door that looked good.
3. The funky door colorslike purple, aqua, orange, lime green ect. I have seen 2 houses in my career that could pull off this look. Both belonged to artists, and the whole house was so funky and cool that it just worked.
For the record, if I ever see a door that knocks my socks off in one of the colors I dislike, I'm totally open to changing my opinion. If it ever happens, I promise to update my blog.
Virginia Kail
Realtor®
Cookeville TN native. A full time, full service agent for the entire Upper Cumberland region of Tennessee.
931-260-4729 cell
True Blue Realty
931-559-TRUE  Office phone, 931-559-4256 Office Fax
Virginia Kail- real estate agent, Cookeville TN